Can't find what you're looking for?
Check out GPS World:
To contact our staff:
1360 E 9th St, Ste 1070
Cleveland OH 44114
Phone: 216-706-3700
Toll Free: 855-460-5502
Fax: 216-706-3711


Buyers Guide Sales

Editorial Staff

Advertising Staff
Products
Connected Car

Differential GPS

- Real-Time DGPS Correction Services

- Real-Time DGPS Receivers

- Reference Stations

Integrated Navigation Equipment

Precise Ephemeris Information

Receivers

- Attitude/Direction Finding

- Automatic Vehicle Location

- Aviation

Receivers (Cont'd)

- Land Vehicle Navigation/Route Guidance

- Marine

- OEM Modules/Engines/Chipsets

- Software Receivers

- Space

- Surveying

- Surveying/RTK

- Tracking

Software

- Navigation/Route Guidance

- Vehicle/Vessel/Asset Tracking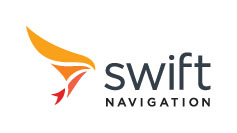 Swift Navigation
Contact Info
Street Address
201 Mission St
Ste 2400
San Francisco, CA 94105
Social Media
Other Branches
Key Contacts
About Us
Swift Navigation is changing the way we navigate and understand our planet. Swift's precise positioning technology platform improves location accuracy from several meters to centimeter-level and is used by millions of devices across the globe. Swift's technology is trusted by users across industries, enabling safer driving, improving efficiency for last-mile delivery and commercial transport operations, increasing accuracy for mobile devices and creating new possibilities for rail, robotics and machine control. Learn more about how Swift is building a safer and more connected future at swiftnav.com
Where to Buy
Visit Swift's online store at https://www.swiftnav.com/store
Downloads
Case Studies
Swift invites to you to review a sampling of its innovation in the case studies shared here.
White Papers
White Papers
The data captured in our featured white papers showcases how Swift products can improve your precision location project.